On Sunday I took part in Preston Sky Ride. For more information visit http://www.goskyride.com/
What an amazing experience. Cycling through Preston where there wasn't any traffic was fantastic! I wish every time we cycled into Preston was like this! The route was fantastic and took us through the best parts of Avenham Park. I love that place!
Apart from my gears not working properly (hope I don't need new gears!) meaning I had to get off to walk up a couple of hills, I cycled the whole thing! Absolutely amazing!
One thing that I didn't like was the fact that when we stopped to look at what was going on at the Flag Market, a lady, who was one of the people directing the cyclists, had a go at us for stopping, we were not in the way. Nice! But that was nothing and didn't spoil the day. I was so happy that I done it and I think my fear of cycling is getting less and less. I have now booked myself for another cycle ride this Sunday!
The problem with cycling, I couldn't take many pictures (was too busy enjoying it!) but here are some that I took when we had finished the ride.
I am linking this to Multiple Mummy's Family Frolics!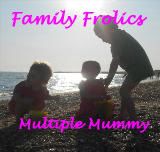 This Sunday I will hopefully be out cycling with my fiance and our daughter. I will be taking part in Preston Sky Ride.
This seems rather odd to me because since my accident I haven't really looked forward to going cycling. But I really can't wait! On a previous post I did say that I am beginning to like cycling, maybe just maybe my brain has stopped thinking negatively towards cycling and maybe we can now enjoy cycling as a family. OK Sunday's cycling is off-road and where there are roads, the roads are closed so there is no risks (apart from cycling into other cyclists) so it will be fine but I haven't looked forward to cycling even off road for a long long time. Oh I really do hope that I have started to like cycling again!
I have seen the Sky Ride in Manchester last year, I think it was the day that I got my new bike (after my bike was stolen). It did look good and my fiancé looked like he really wanted to join them! He loves cycling!
Oh, just realised I need to get a new helmet. I lost my visor somewhere on a bike ride up Beacon Fell! Don't think I have time now! Oh well!
There are Sky Ride events in various towns and cities..is there one near you? http://www.goskyride.com/
I haven't been paid to post this.